In Our Community
In Our Communities
14 Jan 2019
At UGI, community is at the heart of all we do and we invest in the communities we serve.
As we look back on 2018, UGI Utilities contributed more than $2 million to local organizations. We are a strong supporter of our employees and the organizations in which they are involved, and we are committed to benefiting our communities through charitable giving.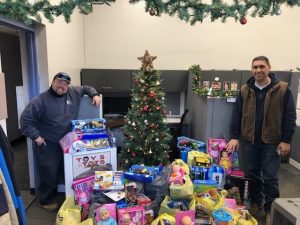 UGI employees live and work in the communities we serve. Our Company and employees focus on supporting areas of education, community development, disaster response, and environmental stewardship.
UGI has a long-standing support of public education programs, focused on early childhood literacy, career awareness and STEM-related programs, as demonstrated through our contributions to Reading Is Fundamental and The S.P.A.R.K.S. Foundation. In addition, we do our part to strengthen our communities with support of area nonprofits, such as Big Brothers Big Sisters; disaster response, including American Red Cross; and the environment, with Wildlands Conservancy.
For more information about UGI's commitment to community, visit www.ugi.com/community, or follow us on Facebook (facebook.com/ugiutilities) and Instagram (@ugiutilities)
for photos of our employees in action. We look forward to lending a helping
hand to our neighbors in 2019!