Safety
Keeping Motorists & Workers Safe in Work Zones
08 Jul 2019
UGI is committed to building and maintaining a safe and reliable natural gas system that our customers can depend on. Extensive infrastructure improvement projects to reach this goal may cause temporary traffic congestion as a result of lane restrictions or detours around work zones. UGI provides its employees with the skills and resources to conduct projects safely, but motorists also play a vital role in keeping our employees safe in marked work zones.
Follow these tips to ensure your own safety and the safety of those around you:
Make yourself aware of projects in your area or along your commute by 

visiting our 

current projects page

.

Obey the posted speed limit and be prepared to slow down further if driving conditions make it necessary.

Slow down as you approach workers and give them extra room.

Merge into the proper lane well before you reach the lane closure.

Stay vigilant and be prepared to react. Workers, work vehicles, or equipment may enter your lane without warning. Other vehicles may slow, stop, or change lanes unexpectedly.

Buckle up. Not only is it safe, but it is also the law.

Avoid distractions 

that would take your concentration away from the road 

such as

 using

your mobile phone, changing the radio station, or eating.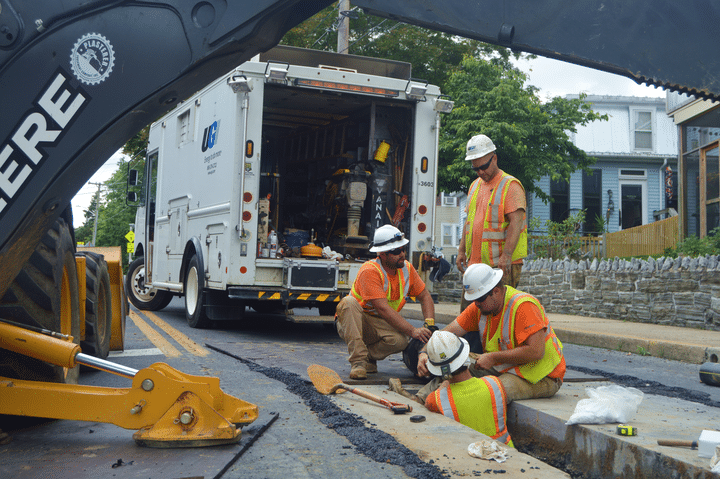 The safety of UGI employees is not the only important aspect of work zone safety; most fatalities in work zones are drivers or their passengers. UGI employees are responsible for keeping their minds on their work at all times and not engaging in acts that would endanger themselves or another person, but motorists also have a responsibility to ensure work zone safety. 
At UGI, safety is a core value; it guides every action we take and every decision we make each day. To learn more about UGI's commitment to safety, visit our Visions & Values page. See our values in action on Instagram, Twitter, and Facebook.