Natural Gas
Now We're Cooking
24 Feb 2020
Just as the kitchen is often the centerpiece of the home, its set up can provide an ideal focal point for outdoor living spaces. Whether simple or high-tech, outdoor kitchens allow homeowners to enjoy the fun of outdoor activities rather than being stuck indoors cooking.
"Outdoor kitchens are just one piece of a growing interest in outdoor living," said Jerry Scott, Senior Vice President, RH Peterson Co.
"Outdoor kitchens and complete outdoor rooms continue to be a top-sought-after amenity for new homes and remodels as well," he said. "This is spurred by the desire to invest in the home and spend more family and entertaining time there while avoiding traffic, crowds and the high cost of dining out. Today, many home improvement shows are featuring the outdoor kitchen or outdoor room, which is inspiring the imagination and desire of homeowners."
Emily McGee, Director of Communications, Hearth, Patio & Barbecue Association (HPBA) agrees, noting that interest in outdoor kitchens increases every year at the association's expo.
"The options, innovation and technological advances are remarkable and always changing," she said. "Your backyard is your oasis. More and more people are viewing their outdoor areas as an additional part of their home and finding ways to use it year-round."
"Creating an outdoor kitchen and living space is also a fairly easy renovation for homeowners," McGee said.
"When you update a patio, you're not displaced, and no contractors are working in your home throughout the day," she said. "It's also one of the more affordable rooms in your home to update."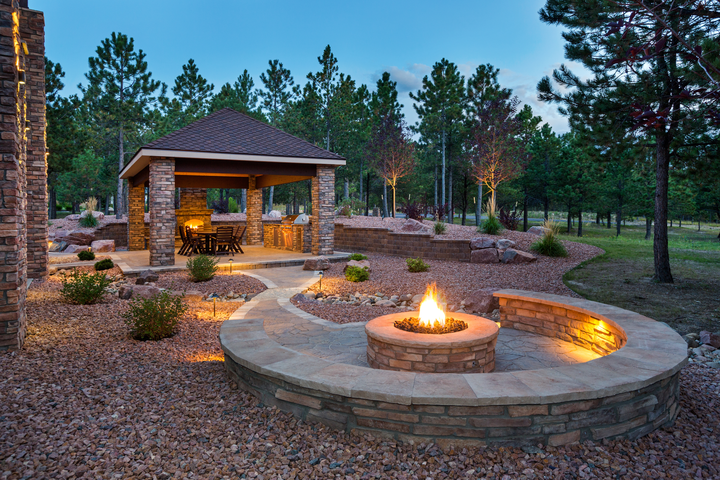 CREATING THE OUTDOOR KITCHEN
In addition to budget, homeowners considering a kitchen area for their outdoor living space should consider the type of entertaining they will do, how often they will use the space, how many people they plan to entertain and the amount of space they have to devote to a kitchen area. They may also want to consult with specialty retailers and manufacturers to get an idea of the available options.
"An outdoor kitchen can be a luxurious and fully equipped area or much simpler with work areas and cooking elements," McGee said. "They can include smokers, grills, pizza ovens and firepits. They may want to add a heating element to maximize its functionality. A homeowner can probably develop a great plan for any budget."
Natural gas grills are often the centerpiece of outdoor living spaces. Grills can be modestly sized and freestanding or large permanent fixtures. With more precise temperature controls than charcoal grills, natural gas grills help produce more consistent cooking results and take the guesswork out of outdoor cooking.
Gas grills ignite quickly without the long warm-up time required for charcoal grills, and the fuel supply is always available. Unlike propane grills, there's no chance of a tank being low or running out during a cookout. Because natural gas grills connect directly to a home's existing natural gas line, the fuel is always available and ready to go. Plus, natural gas cookouts cost about one-sixth the cost of a charcoal cookout and three-fourths the cost of a propane cookout.
"It's no longer simply an outdoor grill," Scott said. "Homeowners are installing a complete kitchen to allow outdoor preparation for complete meals. The outdoor living area is an investment rather than an expense. It's an investment in your home and an investment for your family."
© Energy Solutions Center