Customer Service
Restoring a Road After the Utility Work is Done
28 Mar 2017
Repaving and road restoration following an infrastructure project requires coordination. Many municipalities notify utilities of the date on which street paving will begin and make it clear that all utility work has to be completed by that deadline. As a consequence, multiple utilities can show up in the same area at about the same time to perform replacement or betterment projects. When scheduling is not managed carefully, it is possible that one utility will finish a project as another arrives and re-opens the same stretch of road for their project work.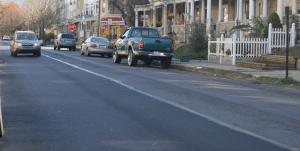 Following completion of a project, UGI uses a two-step process to repair affected roads. First, the road is covered with a temporary patch. The temporary patch is only meant to stay in place until the ground settles. Once settling has occurred, the final paving work is performed to complete a smooth road surface. Mother Nature plays a big role in this process. In addition, asphalt plants close down for the winter and the ground takes much longer to settle. There's a very good chance that a utility project completed late in the fall won't receive its final paving until spring.
If it appears utility projects seem to be with us continuously, there is a good reason – there are many of them. For example, in the city of Reading, there were about 30 significant utility projects that required road work, including milling and pavement overlays, on city streets. There were many "street cuts" due to customer service replacements and repairs, as well as 450 sidewalk repairs.
UGI always hires qualified contractors for roadway restoration work and holds them to high standards. Traffic interruptions and detours are never fun for those living and working near utility projects. We appreciate the public's patience and understanding as we complete these projects to improve utility services.