Safety
Stay Cool and Comfortable This Summer
20 Jun 2018
Temperatures are heating up across UGI's service territory.
Summer's finally here and as we begin to spend more time enjoying sunshine and longer days, UGI reminds residents to be aware of the dangers of extreme heat and sun exposure.
Use the following tips to help avoid heat stress and keep you and your family safe this summer:
Drink cool water. If you are working in a hot environment, you should drink cool water frequently in small amounts, totaling one cup every 20 minutes. Avoid alcohol, coffee, tea and caffeinated beverages, which can cause dehydration.
Wear lightweight, loose-fitting, light-colored clothing. Change clothing if it gets saturated. Wear a hat and apply sunscreen to exposed areas when outside.
Older adults and people with chronic health problems should stay indoors and in the coolest available place.
Stay indoors, if possible. If air conditioning is not available, stay on the lowest floor, out of the sun. Do not spend long periods of time in the direct sun.
If possible, work or play in the cooler hours of the day.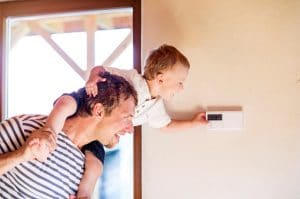 Use energy wisely
Extreme temperatures can also have an impact on our energy use. UGI also encourages residents to use energy wisely this summer. Here are some easy and inexpensive conservation tips:
Install a programmable thermostat and raise the setting to the highest comfortable temperature. You can save three-to-five percent on your air conditioning costs for each degree you raise the thermostat.
Close doors leading to uncooled parts of your home. If you have central air conditioning, close off vents to unused rooms. Keep filters clean.
If you have air conditioning, use ceiling fans to provide additional cooling and better circulation.
Seal holes and cracks around doors and windows. Eliminate air leaks around window air conditioners with foam insulation or weather-stripping.
Close blinds, shades and draperies facing the sun to keep out the sun's heat and help fans and air conditioners cool more efficiently.
Use timers and motion detectors on indoor and outdoor lighting.
Avoid placing lamps or TV sets near your room air-conditioning thermostat. Thermostat sense heat from these appliances, which can cause air conditioners to run longer than necessary.
Vacuum registers regularly to remove any dust buildup. Ensure that furniture and other objects are not blocking the airflow through your registers.
Install efficient lighting that runs cooler. Only about 10 to 15 percent of the electricity that incandescent lights consume results in light—the rest is turned into heat.
Your safety is our top priority. UGI emergency response is available 2-hours a day, seven days a week. Call UGI at 800-276-2722 if you experience an issue with your UGI natural gas or electric service.
Be sure to follow UGI on Twitter: @ugi_utilities and on Facebook: @UGIUtilities for more safety tip and energy tricks to help stay cool and comfortable this summer.