Electric
Students "Take Action" with Energy Efficiency
22 Jan 2019
The 5th grade teachers at Greater Nanticoke Area Elementary Center didn't wait for Earth Day to teach their students about Energy Efficiency. Instead, they invited UGI into their school for some new learning experiences.
The UGI Energy Efficiency and Conservation group recently held "Think! Energy" presentations at eight local schools, to more than 1,300 students. Each student was given an Energy "Take Action" Kit, which included LED bulbs, a shower head, and an aerator to take home and see how much energy they save. Students also learned about energy efficiency, how we produce electricity, and how to be safe around electricity. To demonstrate this, the students took part in an electricity experiment using an "Energy Stick."
The Energy Stick is a plastic tube with wires inside that control the sound transducer, battery power supply, and LED lights; and contains silver bands on the ends, which are electrodes. Using both hands, individually, the students could grip the Energy Stick with a hand on each silver ring and the lights flashed. Once they let go, the lights went off. The students learned that since human bodies conduct electricity, by holding onto both ends of the stick, their bodies closed the electrical circuit needed to let the current flow continuously and activate all the "guts" of the stick.
To demonstrate this further, the students formed a circle and held hands to show how a circle compares to a circuit. Once a student took their hand off a silver ring, or broke the circle by letting go of the person next to them, the current stopped flowing to the Energy Stick. When they grabbed the silver ring or reconnected bodies, the Energy Stick flashes and buzzes because the circuit is complete. Students learned that switches and breakers in their homes are similar to what they were demonstrating with their bodies, in that devices either connect conductors to turn something "on" or separate them to turn something "off."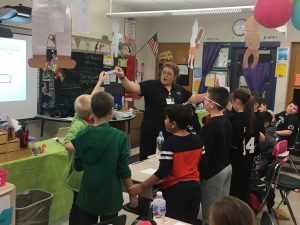 "When educating students, it's important for school districts to work with the community, and we found a great partnership with UGI. It's so exciting to see the student get involved in the lesson during class, and then they take their kits home and extend their learning with their family. UGI is not only gifting the students with an Energy Saving Kit, but they are opening up the lines of communication at home by discussing school activities. That's really exciting!" said Ms. Ferro, 5th Grade ELA Teacher.
For teachers who would like to enroll their class, or learn more about the Think! Energy Program with UGI, please visit www.thinkenergy.org/ugi.