In Our Community
UGI Celebrates National Volunteer Week 2018
24 Apr 2018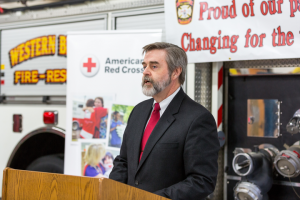 I'm pleased to announce UGI will once again join companies across the country in our annual celebration of National Volunteer Week from April 15-21, 2018.
National Volunteer Week provides an opportunity for us to recognize and thank our employees who donated their time, resources, and support to causes they care about in their community.
Over the past year, hundreds of UGI employee volunteers supported fundraising events, food drives, meal deliveries to home-bound individuals, reading and literacy programs, and served as volunteer firefighters and emergency response personnel. UGI will honor our employee volunteers throughout the week with appreciation breakfasts and lunches, as well as a volunteer gift.
Based on recent feedback provided by employees regarding organizations that are important to them, UGI's Community Relations Team will also conduct a special collection to benefit homeless Veterans in our communities. In addition, various projects and volunteer opportunities will be available to employees interested in demonstrating their community support throughout the month.
UGI has a long history of engagement in the communities where we live and work. From supporting early childhood literacy and STEM education programs to social and emergency services, we are committed to enhancing the quality of life for every resident in the region. Thank you to every one of our volunteers for the work you do throughout the year to make our company and our communities better today and stronger tomorrow!
– Keith Dorman, VP Communications & Community Relations