Customer Service
Utility Scam Awareness Week 2019
18 Nov 2019
It's Utility Scam Awareness Week (November 17 – 23). An initiative founded by Utilities United Against Scams, the week highlights the many ways utility scams are targeted to electric, water, and natural gas customers and how customers can protect their personal and sensitive information.
Scammers typically use phone, in-person, and online tactics to target potential victims. UGI urges customers to be aware of the following scams:
Disconnection Deception – Scammers call threatening disconnection of your natural gas or electric service, demanding immediate payment by prepaid debit cards.
Overpayment – Scammers call claiming you have overpaid your utility bill and you need to provide personal bank account information to facilitate a refund.
Vacate Your Home – Scammers claim you need to have your utility meter replaced and that you need to vacate your home for 72 hours during replacement.
Power Restoration Charge – Scammers call offering to restore lost power more quickly if you agree to pay a fee or provide personal banking information.
Door Knocking Imposter – Door-to-door scammers will pose as utility workers to gain entry or access to your home.
If a person claiming to be a utility employee knocks on your door, residents should check for proper identification before allowing that person into their home. All UGI employees carry photo ID cards that display the company logo along with their name, photo, and employee number. UGI employees are happy to show consumers their ID badges upon request.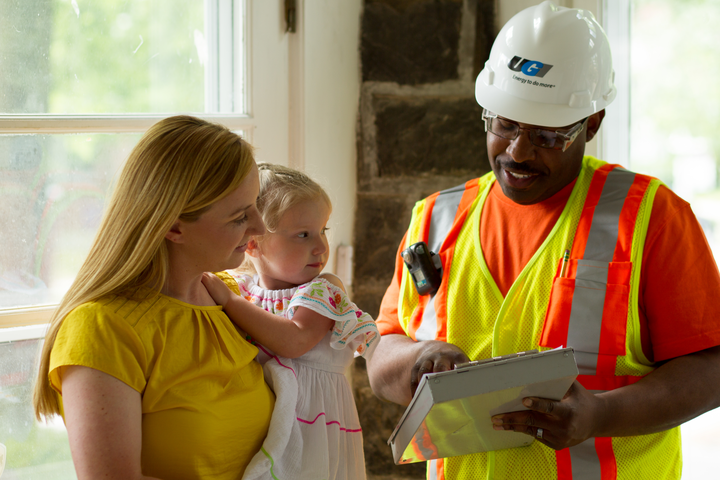 UGI Wants Customers to Feel Secure
UGI wants you to feel secure when one of our representative visits your home or business to perform utility services. To help prevent imposters from gaining access to customers' homes, UGI urges customers to keep the following safety information in mind:
UGI does not routinely do any work unannounced late in the evening except for a customer-requested appointment or legitimate gas emergency. UGI does not do meter reading work late in the evening.
Legitimate UGI meter readers, inspectors, collectors and service representatives routinely wear blue or orange uniforms with a UGI logo and drive marked, numbered vehicles.
Most service work is performed on a pre-scheduled basis, with the exception of leak and corrosion surveys.
Meter reading is performed on a scheduled date, as noted on your monthly bill, typically within the hours of 7am and 5pm.
Always ask to see proper identification before allowing anyone entrance to your home. If you are suspicious about a person's ID or activities, do not allow that person into your home and call UGI immediately so that we can verify the visit.
UGI also reminds customers that scammers can place phone calls or send emails stating the customer owes money for their energy bills and that non-payment has already resulted in or will lead to immediate termination of service. These scams typically try to obtain personal information from the customer or solicit payments through pre-paid credit cards.
These phone calls are not generated by UGI or an agent of the company, nor is this the normal process that UGI would follow if a customer is not current on their account. In addition, UGI would not recommend a prepaid credit card as an option for payment.
If you ever have any question about whether a visit, phone call or email from UGI was legitimate, please contact UGI at (800) 276-2722.
For more tips to protect yourself and your personal information against utility scams, follow UGI on Facebook, Twitter, and Instagram.