Save Energy & Money
Winter is coming. Are you ready?
08 Nov 2018
If your HVAC equipment is more than 10 years old or not keeping your house comfortable, have it evaluated by a professional HVAC contractor. If it is not performing efficiently or needs upgrading, consider replacing it with a more efficient unit or one that has earned ENERGY STAR® Certification. Replacing your old heating equipment with ENERGY STAR® Certified equipment can save you energy and money on your annual heating costs.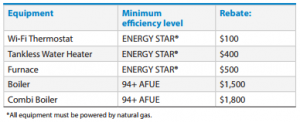 UGI offers several rebates on ENERGY STAR® and energy efficient equipment that will allow those cold, winter days to be a bit cozier. For more information please visit www.ugi.com/yourgasrebates.