CNG Vehicles: Waste Management
Refusing Sustainability Status Quo
Driven by Sustainability
In 2007, Waste Management unveiled a progressive set of sustainability goals aimed at positioning the brand as a leader in the environmental services sector and differentiating them from their competitors. Included in the goals was the commitment to lower the fleet emissions by 15% by 2020, translating to a reduction of 3.5 million metric tons of CO2 emissions, $1 billion in operational costs and 350 million gallons of diesel fuel.
Just four years later, the initial goal was surpassed, nine years early, facilitated by the transition of their fleet vehicles to natural gas.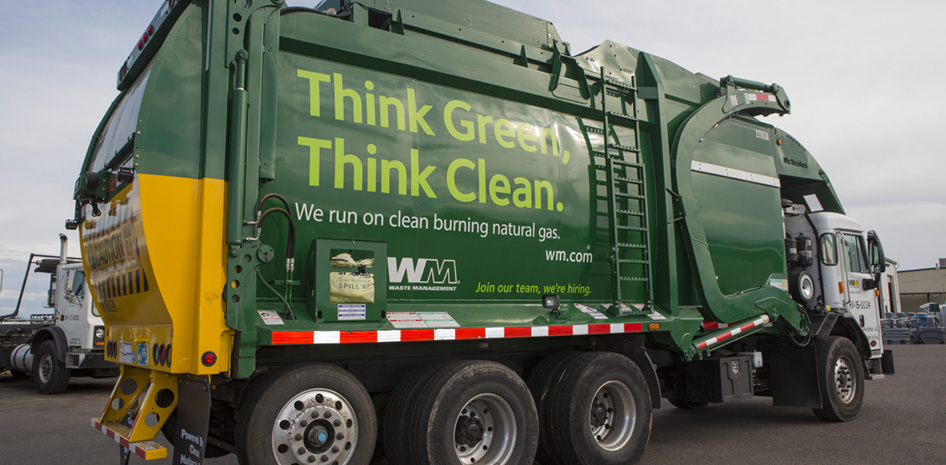 Maximizing Resource Value, Minimizing
Environmental Impact
Waste Management provides waste and recycling services for more than 20 million residential, commercial and industrial customers across North America. Their mission extends beyond disposal and recycling to include guidance for their customers to achieve their own green goals, including zero waste. The company is also developing technologies to put waste to the next best use, including a patented process that harnesses the renewable energy in food waste.
As part of their mission to balance the collection and handling of waste with doing so responsibly, Waste Management is constantly focused on environmental performance. In 2018, they revisited their ambitious goals from 2007 and aimed even higher, including
a reduction in fleet emissions by a whopping 40 percent, primarily through growing their fleet of compressed natural gas (CNG) vehicles.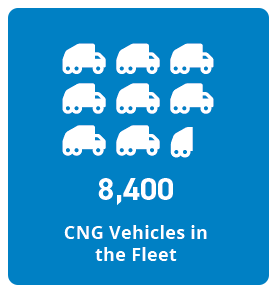 Continent's Largest Fleet of Heavy-Duty CNG
Their fleet of tens of thousands of collection vehicles is the most visible symbol of the company and also the source of some of the greatest reductions in their carbon footprint. Refuse vehicles, outfitted with heavy machinery and carrying tons of waste, are among the least fuel-efficient vehicles on the road.

To address this, Waste Management has led the industry and beyond in the transition from diesel to natural gas fleets. They recognized the value as far back as 1992 and were the first company with a vocational fleet to join the US Environmental Protection Agency's SmartWay Transport Partnership. Steadily increasing from 850 CNG vehicles in 2009 to more than 8,400 over the past 10 years, Waste Management operates the continent's largest CNG fleet of its kind.

To fuel this record-breaking fleet, Waste Management has developed 137 fleet natural gas fueling stations across North America. At 25 of these sites, the company also has installed public fueling stations that provide the community with access to this economical, low-emission fuel source. One of those stations, in Pen Argyl, PA, is in UGI Utilities' service territory.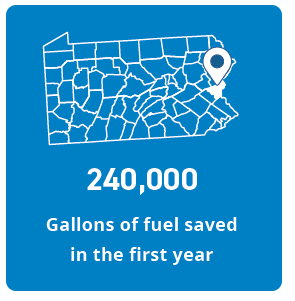 Local Project Spotlight – Pen Argyl
In 2015, Waste Management converted its Grand Central Hauling CNG fleet and public fueling station in Northampton County. UGI worked with Waste Management to provide nearly 72,000 MCF of natural gas annually to the fueling station. All told, the company invested more than $13 million, and received $1.55 million in state grant funds, to retrofit the maintenance shop, install the fleet fueling facility, deploy 30 CNG trucks and construct and open a public fueling station.

Initial estimates indicated this project reduced the company's diesel consumption by approximately 240,000 gallons in the first year and anticipates a reduction of 600,000 gallons annually by year six (2021).
One Fuel, Many Benefits
Waste Management's vehicles powered by CNG emit nearly zero particulate emissions and cut GHG emissions by 15 percent. Every diesel truck replaced with natural gas results in a reduction of approximately 8,000 gallons of diesel fuel, 14 metric tons of GHG emissions and smog-producing nitrogen oxide emissions by up to 50 percent annually. As of 2019, converting to natural gas has eliminated the consumption of 67.2 million gallons of diesel fuel annually, representing a reduction of 117,600 tons of greenhouse gas emissions each year. Where possible, they also utilize natural gas produced from biogas generated at from their landfills, leading to even more emission reductions.
Waste Management has also realized other economic benefits such as lower operating costs from less maintenance and longer truck service lives, attributable to less vibrations as compared to diesel engines. Less vibrations also leads to quieter vehicles and anecdotally, they've even heard from neighbors who have begun oversleeping because they were no longer awoken by noisy diesel trucks.
Finally, Waste Management is acutely aware of the nation's reliance on foreign oil and strongly believes that using domestic natural gas for heavy-duty trucks enhances energy security.
"The comprehensive scope of our fleet conversion to CNG power locally, and across North America, is a reflection of our unwavering commitment to environmental stewardship and to the communities we serve. It is a big part of what sets Waste Management apart as the leader in our industry"