For UGI employees, being a volunteer is more than just giving time or money to organizations in our communities. It's about truly making a difference in the lives of others and building a better, brighter future for everyone.
Wrapping up our National Volunteer Week celebrations, Lori Hoffman, UGI Community Relations Coordinator, shares why she's passionate about giving back to the communities she lives and works in.
What has been the most meaningful volunteer project/initiative/event you participated in in 2017?
I'm proud to work for a company that supports employees' involvement in the community! Two of my favorite events from 2017 are the Olivet Boys and Girls Club Center for the Arts holiday party, hosted by one of UGI's Reading-based employee engagement committees, and the annual Cups of Compassion in Downtown Reading.
I personally volunteer as a mentor at the Olivet Club have had the chance to get to know the students and interact with them on a weekly basis. I loved seeing how much fun the kids had playing games, singing karaoke carols, and having photos taken at the photo booth, as well as the joy and excitement they had seeing Santa and Mrs. Claus!
The Cups of Compassion event is held annually just before Christmas, and brings the community together in Downtown Reading to help those in need during the holiday season. Hundreds of individuals, businesses, and organizations participate in the event by handing out donations of clothing, food and toiletries as well as providing services and resources to local assistance. Being on the committee that organizes this event each year, It is very humbling to know that an estimated 1,000 individuals in need attend this event to receive even the basic needs. Seeing this community come together in such a big way to offer assistance is so inspiring to me.
There is no greater gift than to give. To me, this is what the holidays are all about.
If you could have dinner with any humanitarian (living or deceased) who would it be and why?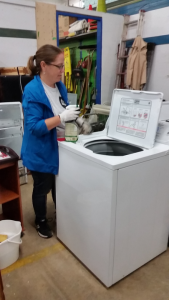 How do you pick just one? There are so many people doing that have done (and are doing) great things to make the world a better place. One person comes to mind immediately, and that is Ellen DeGeneres. She promotes compassion and human rights in a world that could use much more of both. And, I am a fan of her television show which constantly tells the story of individuals and organizations in need as well as recognizes people who are making a difference. Seeing Ellen sharing their stories and then helping them with contributions is both inspiring and encouraging! Besides all of the good work she does, she is equally as funny!
On a local level, Craig Poole of the DoubleTree hotel here in Downtown Reading is doing great things for the Reading area. Craig is a well-respected person in our community who is committed to bringing positive change and is leading this change by example. Living here all of my life, I want to be part of this positive change and would certainly be even more inspired to do so after talking with Craig.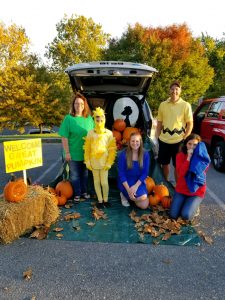 What are you favorite types of volunteer activities?
Volunteering isn't something I do; volunteering is who I am. I enjoy giving back and being involved in the community however I can, especially activities that involved children and young adults. From participating in UGI's RIF program to mentoring and tutoring students at local schools and organizations, can all have a lasting impact and positive influence on someone's life. And that is a feeling like no other.
What are your community goals for 2018?
UGI has a number of committees across the service territory that provides ways for employees to get involved in the community, including volunteer projects and raising funds and collecting items for local organizations. My goal is to get more employees input into the types of projects that we do and organizations that we support, as well as to help employees lead these events.
Follow UGI Utilities on Facebook, Instagram, and Twitter as we celebrate and share our favorite volunteer moments all week long. To learn more about UGI's involvement in your community, visit us online at www.ugi.com/community.