Natural Gas
Natural Gas: Your Natural Energy Value
23 Feb 2023
No getting around it: you need energy to heat your home and hot water, cook family meals, and operate home appliances. As prices of all energy sources have experienced upward  pressure over the past several years, residents have paid more attention to their monthly utility bills.
Despite this, it's important for consumers to realize that natural gas remains a strong energy value. When compared to other energy choices, natural gas provides not only a warm, comfortable home but also represents significant savings on your monthly bill.
According to a Heating Cost Comparison article from Shrink that Footprint, "natural gas prices in the U.S. mean gas heating is much cheaper, explaining its dominance for central heating." Their analysis continued that "natural gas furnaces pound for pound are more effective in generating heat energy."
The proof is in the numbers. Based on February 2023 average pricing, the average residential heating customer saves about $1,500 per year using natural gas vs. fuel oil. Natural gas users save more than $2,800 when compared to the cost of electric baseboard heat.
The following chart shows a cost comparison of fuel sources in Pennsylvania on a MMBTU basis. MMBTU stands for one million British Thermal Units and represents a measure of energy content in fuel.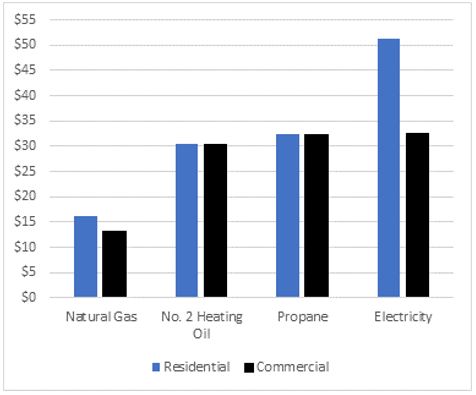 Natural gas not only provides value for heating but also offers an economical choice for hot water heating, cooking, clothes drying, and other residential and business needs.
Natural gas has proven to be an economical value for homes and businesses for many years. With a local, plentiful supply providing warmth and comfort, natural gas will prove to be a wise investment for many years to come.
Helping the environment and saving money
In addition to the price advantage of natural gas, many customers have reduced both their bills and their carbon footprint by taking advantage of the UGI Utilities Energy Efficiency and Conservation (EE&C) program, which provides rebates for installing energy-efficient equipment in homes and businesses.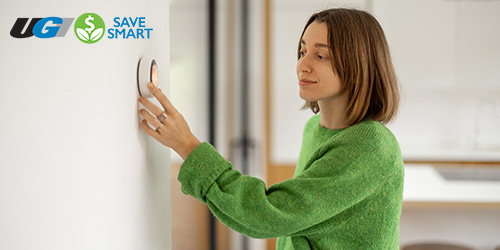 The EE&C program provides customers with significant energy savings and a more sustainable lifestyle. In 2022 alone, customers received approximately $8.8 million in rebates for the installation of energy efficient appliances and HVAC equipment. Since the inception of the EE&C program, UGI's energy conservation programs has led to lower gas consumption of 1,021,056 MCF (thousand cubic foot).
Examples of rebates available to UGI residential customers include the following:
Customers who install high-efficiency HVAC equipment may also qualify for federal tax credits available through the Inflation Reduction Act.
The Weather Normalization Adjustment
Following the approval of a five-year program, UGI instituted a Weather Normalization Adjustment (WNA) provision to natural gas customer bills in November 2022. The WNA is a method of billing designed to stabilize customer distribution charges due to weather related usage changes. The WNA is only applied during heating months, from October through May of each year.
The WNA offers a level of price stability during the coldest months of the year when bills can swing significantly due to periods of extreme temperatures. Natural gas bills are impacted by the WNA under the following circumstances:
If temperatures are colder than normal in a given month by more than 3 percent, customers will receive a credit on their bill.
If temperatures are warmer than normal in a given month by more than 3 percent, customers will receive a surcharge on their bill.
In months of normal weather, bills will not have an adjustment.
The WNA affects only the "Distribution Charges" portion of the bill, not the "Commodity Charge." The Commodity Charge is the cost for the amount of natural gas used by the customer, who can choose to purchase the commodity from either UGI or an alternate supplier.
The WNA is based on weather variances measured against a 15-year period. This 15-year normal average will be updated on a rolling five-year basis. As climate change affects temperature, the normal base for any adjustment will follow those impacts and self-correct.
For those customers concerned that energy conservation may be neutralized by the WNA, it's important to note that they will still see the benefits of energy efficiency. When a customer conserves gas during the winter months, for example by turning down the thermostat, they are reducing the temperature sensitive portion of their bill, which is what is adjusted for normal weather within the WNA calculation. Although a customer may still see a WNA assessment on their bill, the amount charged in a warmer than normal scenario will be less than it otherwise would have been with higher temperature sensitive usage. In addition, customers will see their energy conservation efforts as a direct benefit on the commodity portion their bill. Commodity charges are based on customer's actual usage and are not impacted by WNA.
For more information and FAQs, please visit our Weather Normalization Adjustment (WNA) page.
In addition to value, Natural Gas offers other advantages
While natural gas helps keep your utility bills manageable, it offers other tangible benefits as well.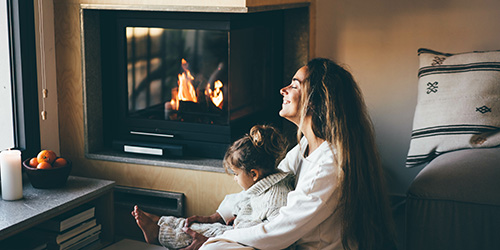 Natural gas is comfortable. Many homeowners cite increased comfort as an advantage of natural gas. With the ability to use natural gas to fuel fireplaces and space heaters, even the "cold spots" in a home can feel more cozy and inviting.
Natural gas is reliable. More than 90 percent of UGI's natural gas supplies are produced in the Marcellus Shale region, a major portion of which is located in central and northern Pennsylvania. Natural gas is transported through underground pipelines to homes and businesses and is typically unaffected by severe weather.
Natural gas is clean. Natural gas burns more cleanly than other fossil fuels, with lower levels of  emissions such as carbon monoxide, carbon dioxide and nitrous oxides. It produces less greenhouse gases than other fossil fuels and doesn't produce ash or particulates that may cause health problems.
Natural gas is versatile. Natural gas can not only heat your home and hot water, but can be used for cooking, clothes drying, fueling a fireplace, and even heating a pool. Natural gas can also add to the appeal of your backyard, providing fuel for fire pits, grills, patio heaters, and lighting.
Natural gas is safe. Natural gas has a commendable safety record. In addition, precautions such as adding an odorant to natural gas so a leak can be easily detected enhance UGI's ability to respond to any potential emergency situation.
For more information on natural gas and its benefits, please visit our Gas for Homes page. Businesses should visit our Gas for Business page.